Online Store Create Now and Learn to Make Money Online | 1Online Media.ro Here's a step-by-step guide on how to build your own online store with Shopify. I want the online store now !!!
I'll cover all the basics and a little more so you can make the store online To work ASAP (We are all busy, I know). If you stay stuck (I doubt you will), leave a comment or contact me through Facebook 1Onlinemedia. Let's start … How to set up your own online shop with Shopify
Signing up to the store and opening your store can not be easier and even offers one Free trial 14 days to help you get the details of the store. To start your Shopify shop, you must sign up for an account.
Start creating your online store Once you've signed up, you'll be directed directly to the store manager's screen. Now you're ready to start customizing your store's look, uploading products, and setting your payments and shipping.

Your home administration screen tells you everything you need to know to make it work. 3. Choose a "Theme" or "Appearance" Shopify has its own official theme store. All these themes are guaranteed with the full support of designers so you know your store is in good hands. All themes come with a complete list of changes you can do without having to touch a line of code. The first themes come with several changes, but that does not mean you can not make a great site with one free. These changes are presented in the following section. If you want to make changes to a theme, there are very few limitations on what can be gained by accessing HTML and CSS codes. Do not worry if you do not have a coding experience. Shopify has an international team of designers called "Shopify Experts" that you can hire to fully personalize your site. To find a theme that suits your needs, we recommend the following:
1. Browse the "Theme Store" Sign in to Shopify and visit Shopify Theme Shop at themes.shopify.com. Here you will find over 180 thematic variants to choose from, including a good selection of free ones. You can filter through paid or free industry, and through functions. You can also sort themes by price, popularity and most recent.

Shopify Theme Shop.
2. Check the functionality and reviews Once you have found a theme you like, click the example of the theme image. You will get more information about the theme, such as whether the theme is receptive / mobile, among other features. Scroll down to read a few reviews to find out what e-tailers using the Think Think theme.
3. Preview the theme To see the theme in action, click View demo. You will see this under the green "Shop theme preview" button. If the theme comes in a range of styles, you can also view demos of different styles by clicking on them.
4. Get the theme Once you've found a theme you want, click the green button. Shopify will ask you to confirm that you want to install the theme. Click Publish as my store theme. Do not worry if you're not 100% sure it's the right theme for you. You can always change your thoughts later. Once the theme has been installed, Shopify will inform you and give you the option to go to your Theme Manager. Click it. The themes manager displays published themes (those you have installed or most recently activated) and themes not published below (previously installed themes).

Most themed stores allow you to make simple changes that can change the look of your store so you can rest assured that you will not reach a site that looks like a clone of thousands of other stores.

These stores are built using the same theme. On the administration screen, select "Themes" in the left navigation menu. On this page you will see the live theme in a box at the top, in the upper right corner of the box there will be two buttons. The first is three points, which gives you some basic changes to the settings. One of these allows you to make a duplicate of the theme. We strongly recommend doing this work on making some changes you do not like, then you can delete the duplicate and start over again. The second button says "Personalize the theme". If you click on getting to a page that controls all the basic features of your store, this is the right time to play with the settings and test all the features so you can find out what the site is capable of you.

Your custom themed settings.

Changing colors in your theme
The most common features will include: Uploading logos Load slides in a home page carousel
Adding the associated item functionality to product pages Selecting how many items appear on each row of the Colors Font Options collection pages.
Some themes will also allow you to reposition items on pages, such as displaying product images to the left, right or center of the page. You can also choose whether to display social buttons / tweet / pin / + 1 buttons.
5. Add your products to the store Again, by navigating from the left bar select "Products". You'll then see a blue "Add a product" button in the top right corner of the page. Use the following screen to add as much detail about your products. Especially look at those who will help with SEO, such as name, description, and URL. Also, include as much detail as possible to help you tell your customers about your items. This is also the screen where you upload the product images.
Once the images are uploaded, you can rearrange them so you do not worry about uploading them in any order.

Be sure to fill in as much information as possible.
Product images can make a sale so you can show your products at the best and highlight any special or unique features with close-up photos. To keep your order in the store, we suggest that you keep all the images in the same size.
Unless, of course, you intend to make your collection pages look like a Pinterest Plate. Once you have completed everything, always keep in mind that you click the "Save Product" button in the top and bottom corner of the right. Set up collections (product group) A collection is any product group that has some common features that customers might look for when visiting your store. For example, your customers might buy: Special clothing for men, women or Children Items of a certain type such as lamps, pillows or carpets Items for sale Elements of a certain size or color Seasonal items such as holiday cards and decorations. Products can appear in any number of collections.
You usually show your collections on the home page and on the navigation bar. This helps customers find what they're looking for without having to click the entire catalog.

The Collection Set-up screen works exactly the same way as the Product Collections Manually and Automatically When you add a new collection, you can select how products are to be added.
These are the two options:
Manual – Add and remove products from an individual manual collection.
Automatic – You can set the selection conditions to automatically include products that meet certain criteria.
Payment cards A payment gateway allows you to make payments from customers through your website. Rate and commission rate is important, but it's also important to see what features it offers. Not all payment gateways are created equal. You should look at the following in choosing the payment gateway that suits you.

Transaction fees
When making a payment, some gates will retain a small percentage or fixed charge (or sometimes both) to allow you to use the service. Compare them based on your anticipated sales.


Card types You need to know which types of cards are supported by your chosen payment gateway.
All accept VISA and Mastercard, while most accept American Express. Paypal is also becoming popular for online payments.
Some gateways will pay on their own servers in their own form.
This means that the customer is removed from the payee and pays in the form provided by your payment gateway.
These are then redirected to your confirmation page once the customer pays successfully.
This allows you to have a little more control over the payment process. Now you can circumscribe your Shopify limitations by not allowing you to personalize your payments elsewhere than with CSS.
Transaction fees for the payment gateway are added in addition to Shopify's own transaction fees. However, since November, US and UK stores can use Shopify payments. Depending on your Shopify plan, you can save these extra costs. Relatively to your plan you will get these rates very attractive.
Base 2.4% + 20p  
Professional 2.1% + 20p
Unlimited 1.8% + 20p
Depending on the number of transactions you make each month, it might be worth upgrading to take advantage of these savings.
If you live in the US or the UK, your store will automatically use your shopping payments.
To complete this, click the "Set up your Google Payments Payment Account setup" button in Settings> Payments. If you want to use a third-party gateway, you can use the "enable payment gateways" link on the same page.
6. Open your online store "LIVE"
Before your site comes in, you need to add some details about your business and how you plan to make deliveries and pay tax. General Make sure all company information is completed on this page. Also, make sure you use the Google Analytics feature.
This can prove to be an invaluable source for tracking visitors to your stores.

Taxes

Visit your Administrator's Products page

Click the name of a given product.

Scroll down to the section called "Inventory & Variants".

Click the edit link next to the product version to open a dialog box.

Make sure the checkboxes next to Toll Fees and Delivery Needs are checked if you need to include them in your products.

Some stores will not have to charge taxes or supplies on products such as digital goods. On the other hand, a t-shirt store will probably have to both.

If you plan to deliver your product to customers, make sure to enter the product weight in the appropriate field.

 
Delivery
If your shipping charges are too low or if you do not offer enough options, you may lose sales. Shopify will only calculate a shipping rate for your customers based on the rules you define on the Administrator Transport page. To make sure you will not lose any sales:

From the store's administrator, go to the Settings> Transport page.
In the "Shipping Rates" section, be sure to set a weight-based shipping rate and adjust it according to your product specifications.
Test your control system
To test your system, you can simulate a transaction using Shopify's Bogus Gateway. To use the Bogus portal:
From the store manager, click Settings, then click Payments to access your Payment settings
If you have a credit card gateway enabled, disable it before proceeding. (Click Edit, then Disable, then confirm the deactivation.)
In the Accept Credit Cards section, click Select credit card to open the drop-down menu.
Scroll down to the list on Alt, then click (for testing) the Bogus Gateway.
Click Enable (or re-enable if you previously used the Bogus Gateway before).
Go to your store and place an order as a customer. At checkout, enter the following credit card data instead of authentic numbers:
Testing a real payment gateway with a genuine transaction:
Make sure you have configured the payment gateway you want to test.
Make a purchase from your store as a customer and complete the verification using authentic details on your credit card.
Cancel the order immediately to get you back and avoid paying transaction fees.
Sign in to the payment gateway to make sure the funds have gone. It's free? Yes – do not forget to cancel and return the order immediately after placing it.
If your billing cycle occurs after you place your test order but before canceling it, the transaction fees will appear in your invoice. You can still cancel after paying the invoice to Shopify, but you will receive a refund as a transaction credit in your account You can use transaction credits to pay future transaction fees.
7. Consider Buying a Domain Name To get your site live, you will need a domain name. You have two options for that. First you can buy a domain from Shopify and it will be automatically added to the store. This saves you time, especially if you are not familiar with hosting a website. These domains typically cost $ 9- $ 14 per year.
These are starting at $ 1.99 per year.
The downside is that you'll have to redirect your own DNS records that may seem daunting at first.
If you can not come up with a good domain name, read my tips on how to choose a domain name. Here are the steps to putting your new Shopify store on a third-party domain name.
Add the new domain to Shop In the Shopify administrator, in the left navigation, navigate to Settings and then Domains and add the domain name using the "Add an existing domain" button.
Update your DNS records Sign in to your domain registry and make the following changes to your DNS records: Replace the @ or main A record with the following IP address: 23.227.38.32
Add or replace www CNAME with storename.myshopify.com (that is, the store link link without the bit http, which you can see on the domain settings page)
Remove all store passwords Otherwise, nobody can access your site even when it's live.
Set as primary if relevant While in Settings> Domains, you can choose the main domain using the drop-down menu at the top of the screen:

Be sure to check and "Forward all traffic to this domain".
This means that traffic to all other domains will be directed to your primary domain.
This is crucial for good SEO.
Adding Other Domains You can repeat steps 1 and 2 with other domain names that you own.
All domain names will be redirected to the "Primary" domain, which you can change at any time with the "Set as Primary" option next to each domain name. Keep in mind that the number of domain names you own has no influence on SEO.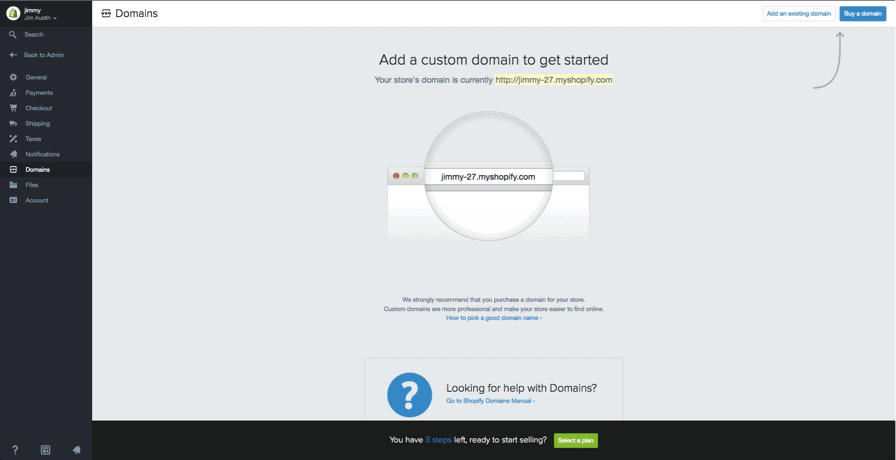 Conclusion
And that's all there is. In theory, you can have an excellent, unique and fully functional store in less than half an hour without having to be a web expert.
Thus, you can spend most of the time you sell, instead of keeping your site.
Alternatives to Shop Shop? I was mainly using WordPress & WooCommerce combo (cheaper & lighter), but Shopify can be a good alternative. For Further Reading: Shopify vs. WordPress (WooCommerce)
In addition, you can build an e-commerce site with site builders as well.
If you want to check them, read my review builders site here. As for personalization, Shopify allows almost every aspect of their templates to be modified in a way.
You can also change the functionality of most parts of your site. In addition, they have the largest app store for added functionality. By comparison, Volusion has only a template that can only have minor changes to it. The only real drawback is not able to completely customize your order.
Shopify restricts access to this page for security reasons.
However, the command comes fully responsive, so it will work perfectly for customers who shop on mobile devices.